Photo: Unknown.
Photo: Unknown.
Photo: Unknown.
Photo: Unknown.
Photograph reproduced with the kind permission of Stuart Neville – https://www.flickr.com/photos/stunev4/
Photograph reproduced with the kind permission of Stuart Neville – https://www.flickr.com/photos/stunev4/
Photograph reproduced with the kind permission of Stuart Neville – https://www.flickr.com/photos/stunev4/
It's debatable whether we'd even recognise the modern photos above as St Enoch Square were it not for James Miller's quirky 1896 Flemish Renaissance ticket office. This iconic little turreted building originally served as both a booking office and the headquarters of the original Glasgow District Subway Railway Company. Following the subway system's modernisation between 1977 and 1980 it became a travel information centre run by Strathclyde Partnership for Transport. It's now a branch of Caffe Nero.
The square is named after St Teneu (or Thenew) of which "Enoch" is a corruption. She was a 6th century Britonnic princess of the ancient kingdom of Gododdin (modern day Lothian) and St Enoch Square was the site of a medieval chapel built on or near her final resting place. She is the mother of St Kentigern who you may know better as St Mungo, traditionally regarded as the father of the city of Glasgow.
The area was planned in 1768 by Glasgow Corporation as a select residential square, but by 1775 the only houses built were those adjacent to Argyle Street. In 1780 the Corporation provided a church although there are conflicting sources suggesting two different architects. James Paterson is credited with its design by the late Professor Charles Gourlay, an architect and academic, while multiple sources cite David Jaffray as the architect, going all the way back to 1816's "Annals of Glasgow" by James Cleland. I'm inclined to believe the earlier source. In 1791 what would become the Royal College of Physicians and Surgeons of Glasgow moved into number 49, the Surgeons Hall which would later be demolished to make way for St Enoch station. The church was replaced by a larger one designed by David Hamilton in 1827 which incorporated the steeple of the earlier structure. Sadly, Hamilton's church would last less than a hundred years before being demolished in 1926 after the congregation moved to St Enoch's Hogganfield.
On the east side of the square stood the impressive St Enoch Hotel, and behind that, St Enoch Station. The hotel and the architectural aspects of the station were by Thomas Wilson, a church architect from Hampstead, and the works were superintended by Miles S. Gibson. Construction started on the station in 1870, and the hotel in 1875. St Enoch station received its first passenger service on 1st May 1876 which preceded the official opening on 17th October 1876 while the hotel opened to the public on 3rd July 1879. The station was large with 12 platforms and two semi-cylindrical glass and iron train sheds modeled after London's St Pancras station. In 1966 St Enoch station closed its doors for the final time after it fell victim to the infamous Beeching cuts which were implemented in an attempt to rationalise the rail network. By the time of its closure it was handling 250 trains and 23,000 passengers per day, all of which were subsequently diverted to Glasgow Central.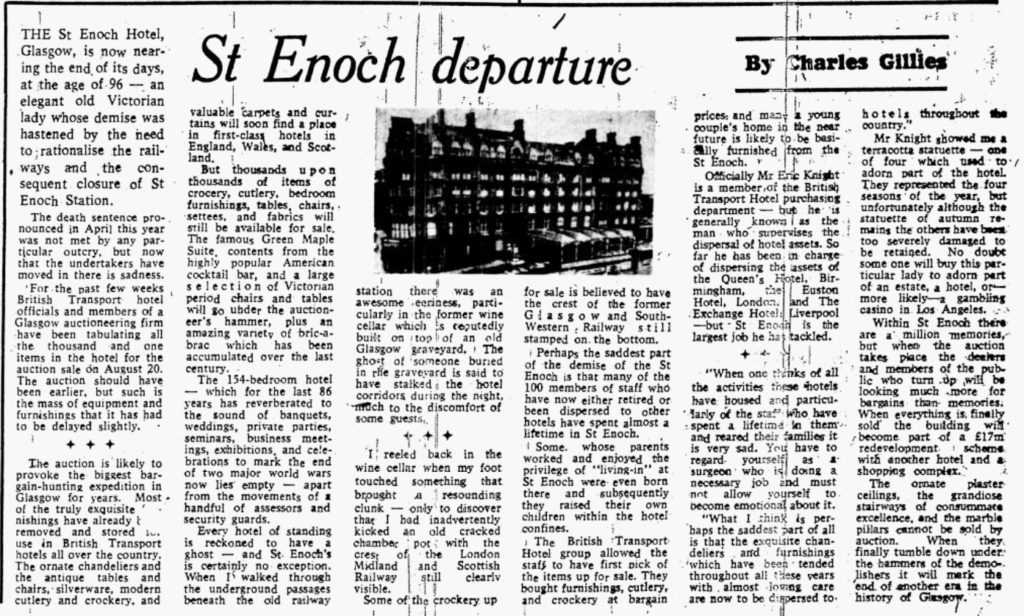 For the next decade, the old station would serve as nothing more than a car park while the hotel slid into decline before closing in 1974. The article above records the subsequent stripping and dispersal of the hotel's assets. The station clock is currently housed in the Antonine Centre in Cumbernauld and featured prominently in the film "Gregory's Girl". In 1976 the roofs of the old station were removed and by 1977 the site had been sold to the Scottish Development Agency which claimed it was required for a new office development housing Ministry of Defence civil servants. Both buildings were reduced to rubble in 1977 but the civil servants never materialised. The decision not to preserve the hotel was met with anger and protest with one resident writing in a local paper "One wonders when the orgy of destruction of all that is architecturally noble and attractive in Glasgow is going to stop".
The destruction of the hotel and station left an ugly gouge in the city centre that would remain for a decade as the St Enoch shopping centre emerged from the rubble, finally opening in 1988 after a 7 year construction. Beauty is in the eye of the beholder and there's a Jenny for every Jock, but there can't be many who see this tented steel and glass monster by Reiach & Hall with Gollins Melvin Ward Partnership, as any sort of improvement. It's not all bad though. The west side of the square retains many fine buildings, including James Boucher's magnificent Teacher building at number 14. Built in 1875 it was commissioned by whisky baron William Teacher and right up until 1991 it was the firm's headquarters. The Institution of Engineering and Technology then moved in and in 1995 it became the Scottish Engineering Centre, receiving a sympathetic makeover that transformed it into a meeting and events venue while retaining original features and tokens of the building's history. The west side of the square is completed by a row of handsome late c19th and early c20th office buildings.
Like so much of Glasgow's lost architecture, St Enoch Square is very much a case of what might have been. In 2018 it's easy to imagine an elegant civic space featuring Hamilton's church and Wilson's grand hotel, restored, repurposed and appreciated once again. So next time you walk past that wee castle in the middle of the square, take a good look at it and be grateful for small mercies.
---
Footnote: There are several photos in this post that I couldn't conclusively attribute to an individual. If you recognise any of them as your own please get in touch and I'll be happy to provide a photo credit and link. What I do know is that the series of photos taken in the late 1970s shortly before the station and hotel were demolished is by Stuart Neville. Stuart very kindly gave me permission to reproduce his stunning photos here. There are many other great shots of the derelict hotel and station as well as a treasure trove of other Glasgow photography over on his Flickr page. 
Facebook Comments